Create your own fitness, coaching or yoga app
Sell your workouts, yoga sessions, meditations, nutritional advice, courses, group chats and live online classes all in your own app.
Mobile apps lead to more leads, better conversions and customers stick around longer.
Your Own Unique App with our Drag & Drop software
We allow you to create your own app. In your style, your branding, under your own name in the app stores.

Our apps provide a better user experience for your customers than eBooks, PDFs and websites.

Whether at home, in the gym, or the park, the app will provide your users with your own interactive & video workouts, workout & nutrition tracking, workout schedules with automated reminders, and more.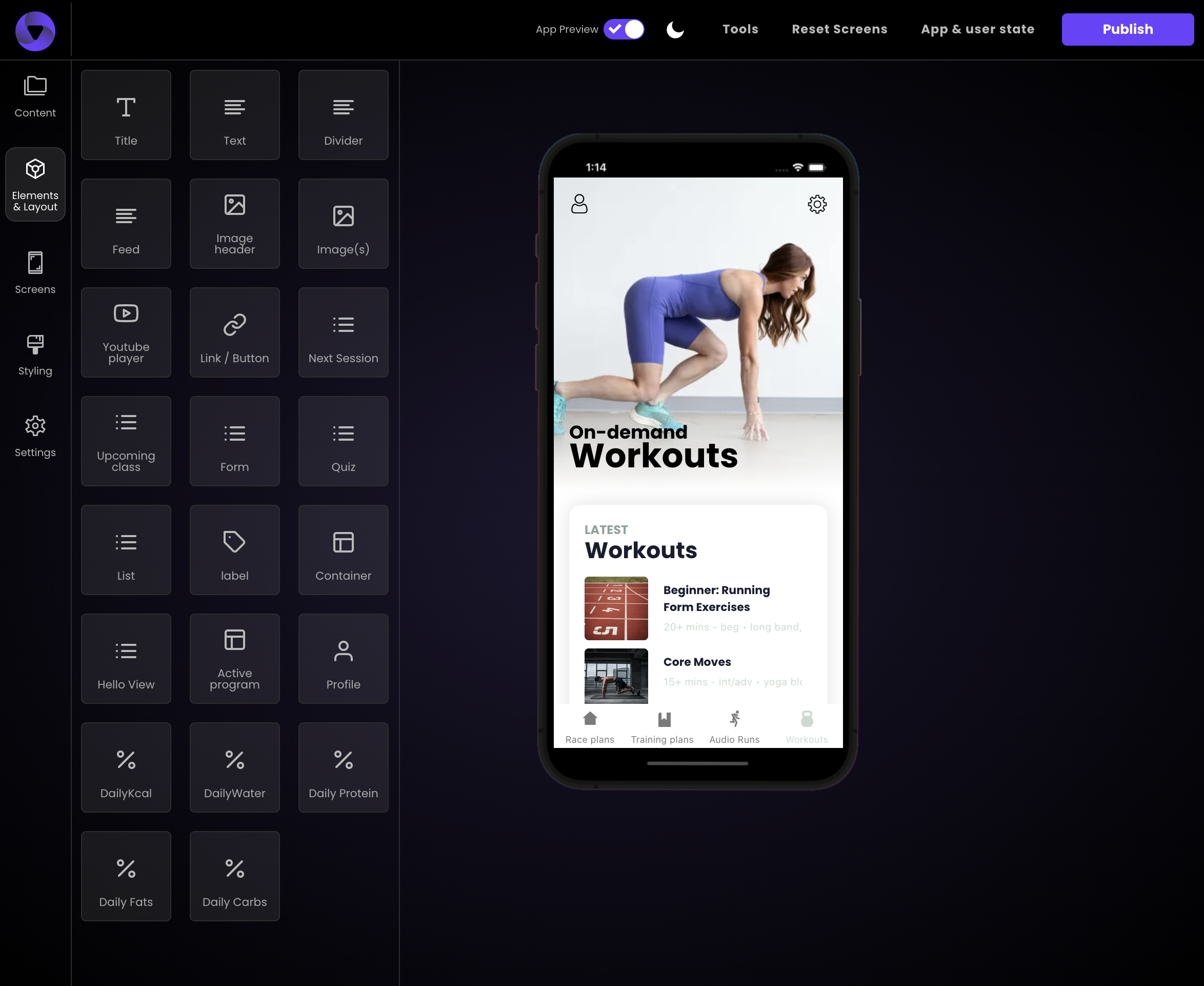 Your Own App Icon & Logo

The app will be published under your name & logo in the app store.

Your Brand & Style.

The app colors, images, logo & menu

Your structure and content.

The page structure, menu, programs, text, videos & images can all be adjusted.
Packed with Features
Everything you need to create the best app
With thousands of users we've learned what works and what doesn't work. We have created a set of features that contains everything you need to be successfull online and help your clients succeed.
Sell Subscriptions & Products

Effortlessly upload your own digital content, enabling you to monetize your platform by selling subscriptions or products directly to consumers.

Interactive & Video Workouts

Upload personalized workout videos, providing interactive and engaging physical activities that your users can enjoy.

Workout schedule & plans

Organize and share customizable workout schedules and plans tailored to the fitness goals of your users.

Offline videos

Enable users to download videos and access them anytime, anywhere without the need for an internet connection.

Progress tracking: images, metrics, mood

Empower users to track their progress through images, fitness metrics, and mood logs, ensuring a comprehensive view of their journey.

Chromecast & Apple TV

Easily stream your content on the big screen via Chromecast or Apple TV, offering users a seamless viewing experience.

Recipes & Calorie tracking

Share recipes and provide a calorie tracking system to help your users maintain a balanced diet and monitor their nutritional intake.

Meal plans

Create and share comprehensive meal plans, guiding your users to follow a healthy and balanced dietary regime.

Chat

Engage with your users in real-time through our secure chat platform, fostering a community and promoting user interaction.
Pricing
Pricing plans for teams of all sizes
Choose an affordable plan that's packed with the best features for engaging your audience, creating customer loyalty, and driving sales.

Try it free for the first 14 days!
Testimonials
What our clients say